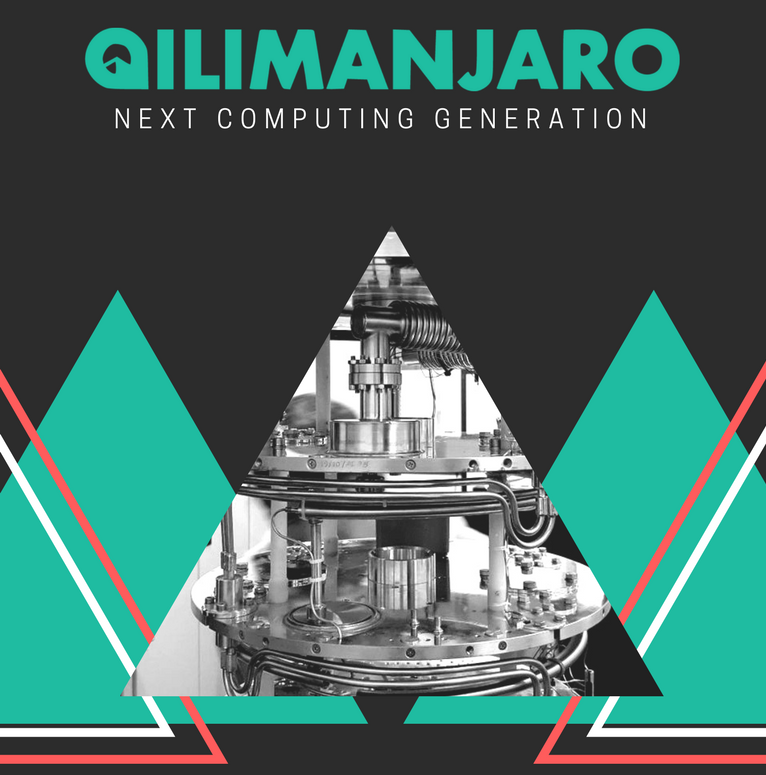 Hi friends , today's we explore a new altcoin token i.e. Qilimanjaro.

Qilimanjaro is not only a token but Qilimanjaro is a platform that enables its users to explore the power of quantum computing in an easy and practical way. It aims at creating an ecosystem of a decentralized quantum computation to everyone, both for individuals and corporations without necessarily having to own a quantum computer.
It also aims at building a quantum-computing platform that will be available to most of its users thus providing them with the access to quantum computing concepts that are not costly. Qilimanjaro uses tokens known as QBITs, which are ERC20-compliant. Users of the QBIT have the following advantages:
They will be able to receive assistance in translating real world problems to the logic of quantum algorithm They will also be able to run algorithms on a coherent quantum annealing machine Tokens will allow corporations or individuals to be able to solve complex real-life problems, both at the level of quantum software and quantum devices.For quantum algorithms, developers whose algorithms will be added into the platform, they will receive incentives after they are proved effective by Qilimanjaro's team.
A total quantity of 300 million QBIT tokens will be available on offer during the Initial Coin Offering.
Ecosystem Composition
The Qilimanjaro ecosystem is composed of:
Qilimanjaro Computing Service: This is the quantum computer and it provides access through to everyone through a user-friendly cloud platform.
Qilimanjaro Software Services (QSS): It offers consultation services to individuals or companies. It also assists users in moving their problems to quantum logic and algorithms that runs on quantum machines. The QSS optimizes the quantum algorithms to any existing quantum hardware. It is used in the running and analyzing experiments on the quantum computer.
Open QL: This is a Universal Quantum Open Source Language, which is able to work over any quantum-programming environment. Besides, the key tool is used in boosting the progress of quantum technologies.
Qilimanjaro Platform: This Open Quantum Community creates an ecosystem for decentralized quantum computation. It is the meeting point for scientific community and developers, where developers can research and explore new and existing quantum algorithms
Quantum Computing Applications
Quantum computing could be applied in the real world in the following ways:
Finance: Quantum computing can isolate risk factors in finance. This works through the use quantum annealers, which solve problems in finance and thus allowing finding of new ways to perform financial data modeling.
Quantum chemistry: Quantum computing can be used in chemistry to help in better understanding of molecules. It could help in the designing of new drugs, fertilizers and gases for capturing atmospheric carbon.
Training of neural networks: An advantage may be obtained by using a quantum processor to train a neural network of a certain size, making it learn from its mistakes and self-correcting more quickly and efficiently.
Optimization problems: Through the use to quantum algorithms, coming up with solutions to problems has been made easier as it studies all the possible solutions to a problem at the same time and presents the solution in shorter amount of time.
Cryptography and security: Sometimes quantum computers might put at risk cryptographic algorithms such as RSA, DSA and EEC. To ensure that security is improved and such attacks are prevented, quantum cryptography is used.
I got more information about this project from its website.

Token information
Circulating supply 135.000.000 QBIT
Maximum supply 300.000.000 QBIT
Price per QBIT token 0.185 $
Softcap 9.900.000 $
Hardcap 25.000.000 $
Private Pre-sale Participate Date Ongoing
Total tokens sold 20.250.000 QBIT
Bonus Maximum 25% bonus
Public Pre-sale : Date To be announced soon
Total tokens sold : 33.750.000 QBIT
Bonus : Maximum 15% bonus
Minimum contribution : 20.000 $
Crowdsale
Date To be announced soon
Total tokens sold 81.000.000 QBIT
Bonus No bonus
Minimum contribution 50 $
Roadmap
Although the objectives of the QCS department are longer term (since the construction of a full-fledged quantum computer is laborious and long), the objectives of QSS team are much more immediate.
Q platform will be rolled out during Q3-Q4 2018. By that time the consulting service will already be operating at full capacity
Q3 2016 - Q4 2017
Trek In
Qilimanjaro Team publishes the first paper ever that exploits a remote cloud quantum computerThe first qubits arrive at the Qilimanjaro Computation Services for testing
Q1 2018
Base Camp
Whitepaper releaseContacts with a number of strategic partners
Q2 2018
Acclimatation Climbs
Pre-saleDeals with a number of strategic partnersToken sale
Q4 2018
Progressive Climbs
QSS portal releaseQilimanjaro Software Services starts giving consultancy services through our access to the quantum computers of other companiesOpenQ releaseEstablishment of QCS laboratory. Delivery of dilution refrigerators and other large equipment
Q2 2019
First Camp
First experiments with flux qubits by the Qilimanjaro Computing ServicesDevelopment of own qubit fabricationOpenQ is being developed and tested with actual experimental setup
Q4 2019
High Camp
Qilimanjaro Community developmentCorporate client accounts provide a continuous influx of problems to solveLaunch of first-ever small-sized cloud quantum annealer (5 qubits)
Q2 2020
Glacier Camp
First 10-qubit coherent quantum annealer assembled and testedQSS develop new algorithms for quantum annealer
Q4 2021
Attacking the Summit
Qilimanjaro Software Services operates at full blast offering own quantum computerFirst coherent quantum annealer assembled and tested
Q4 2022
Exploring the Cone
50-qubit, large-scale coherent quantum annealer attempts to reach quantum supremacy
Q4 2023
The Summit
>100-qubit coherent quantum annealer
Team :- By my opinion, Best team develop best project . I saw here best team works behind this project.
Conclusion:- This one is good project for investment.

Useful links :-
Website: https://qilimanjaro.io
Whitepaper: https://qilimanjaro.io/static/whitepaper.pdf
Twitter: https://twitter.com/qilimanjaro
Telegram Group: https://t.me/ qilimanjaro
Bitcointalk ANN: https://bitcointalk.org/index.php?topic=3738302

Author Details:-
Bitcointalk User name :- p_managave
Reddit https://www.reddit.com/user/managavep
Telegram channel :. HTTPS://t.me/airdropalerts2
Medium :-. https://medium.com/@p.managave
Twitter. https://twitter.com/p_managave
https://bitcointalk.org/index.php?action=profile;u=1852779
Https://www.steemit.com/managavep
Visit us on https://www.atgnews.com for latest cryptocurrency news, airdrop, bounty program
My ether wallet address
0x9Fc911D0378fEd94F4b8389174e1BBb674e61ef1

Source :- website