UBECOIN - A Smarter way to Trade!
ICO INFORMATION


Hello everyone, on this occasion I will introduce the Blockchain Project which is very useful for its users and this project called Ubecoin and Ubecoin is a medium of exchange from Business to Business (B2B), Business to Consumer (B2C) and Consumer to Business (C2B).
Why Ubecoin?
Ubecoin is a blockchain solution created by the Gibraltar technology company with the aim of no less than a total disruption of the traditional barter market globally.
Ube Ltd's Mission is to give power back to the merchants starting with its initial Vision of disrupting the traditional barter model globally by transforming it into a community based decentralized subscription model.
Ube Ltd's strategy is focused on providing a user-friendly platform to E-commerce and entertainment by providing easy access into the Ubecoin ecosystem that will facilitate entry into the modern economy. The more merchants that join the network, the greater the diversification of goods and services which will be offered and the more merchants that join the network, the greater the liquidity of the Ubecoin market.
Execution will be via a 3-phase approach.
1| Free Trade Barter (FTB)


Ube Ltd has created a subscription based E-commerce platform for merchants to trade goods and services without cash transaction fees. Ube Ltd will first seek to disrupt the global barter industry by offering a subscription based advertising model to enable merchants to have an unlimited low cost plan to grow their business.
Ube Ltd is also partnering with an online business network in the UK that consists of over 75k merchants and advertising company Ad Drivers (50k consumers) who will be offering promotions to generate Consumer to Business transactions. Ube Ltd aims to be transacting in the first 3 months of operation.
2| Online Entertainment


Ube Ltd via its JV partner network will offer consumers access to its merchant barter network of goods and services. Ube Ltd is developing partnerships with Probability Limited, Bulbet Limited, licensed UK pool online operators with over 4.5 million accounts and growing.
3| Fintech & Telco


Ube Ltd will offer retail and corporate products to the merchant and consumers. Ube Ltd is developing partnerships within the Fintech space to develop and integrate Ubecoin into various into financial service provider's product ranges. Ube Ltd is currently working with a large telecommunications wholesaler to develop mobile media wallets to enable targeted consumer advertising.
Ubecoin is a registered company created by experts from around the world in cryptocurrencies, finance and business management. As a registered company, Ubecoin is committed to corporate responsibility, with transparent, measurable and accountable processes and procedures being a core tenet of our company.
Additionally, Ubecoin is ERC20 token standard compliant, meaning it can be stored in any ERC20 compliant wallet.
Ubecoin has the advantage of leveraging Ethereum's highly established blockchain network.
This means that Ubecoin will be updated with the most advanced security features and will always be on the cutting edge of cryptocurrency technology.
Ubecoin is ERC20 compliant which brings uniformity, reduced complexity and enhanced compatibility. This means the existing consumer base of people who hold approved ERC20 wallets will have instant opportunity to participate in the Ubecoin ecosystem.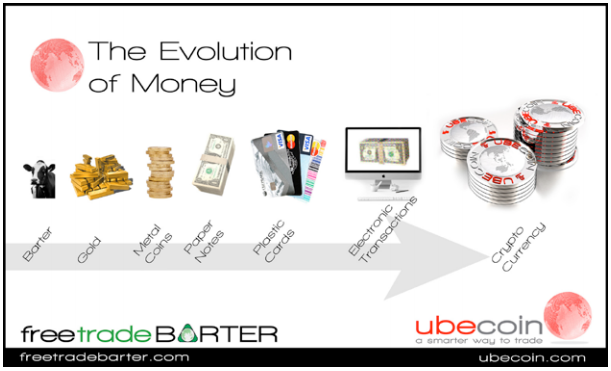 Token Generation Event (TGE)
Ube Ltd has a built in smart contract feature to enable a crowd sale or Token Generation Event (TGE) that meets the requirements of Ethereum standard protocol. This is where a crowd funding smart contract will be used to purchase Ubecoin within a set period. Since the code for this smart contract is open and auditable, there is no need for a centralised, trusted platform (bank) and their fees.
Rewards in the Ubecoin crowd funding campaign will be handled by a central unchangeable database that keeps track of all donors. Ube Ltd will keep track of rewards, anyone who contributes gets a token (coin) that they can trade, sell or keep for later. Those who participate may exchange the tokens (coins) products and services available on the Free Trade Barter merchant network. In the event that a secondary market for Ubecoin develops independent of Ube Ltd and Ubecoin is listed on a third party exchange, it may be possible trade it on such exchange. Ube will neither create such a secondary market nor act as an exchange for Ubecoin.
Token Model
UBE Limited has pre-mined 90% of the total utility token allocation for the furtherance of its business activities both now and for the future.As part of our advanced security protocols, only a relatively small number of tokens will be held in multiple "hot" wallets at any one time to disseminate amongst our networks or provide liquidity within the marketplace.
A combination of cold storage techniques will be applied along with real world physical security measures to insure the safe keeping and protection of the digital asset.
Token Distribution
Ubecoin utility tokens will be used for all platform actions, including payment for goods & services, trading and promotions. Anticipated launch date onto the crypto currency exchanges will be shortly after the TGE closes.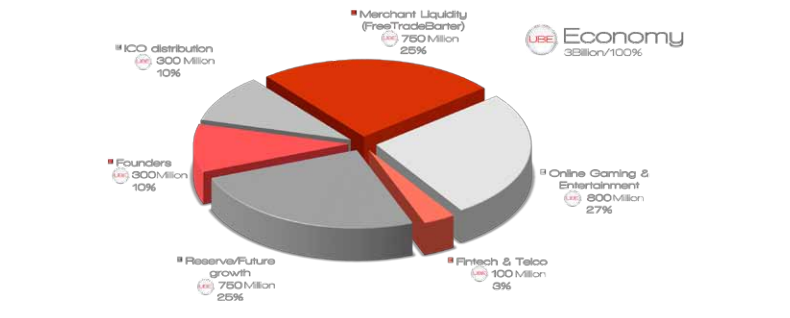 TGE will release of 300 million UBE tokens at USD 0.25
Early Contribution 40% Bonus or USD 0.15 from 2 June 2018 to 1 August 2018
First Release 20% Bonus or USD 0.20 from 2 August 2018 to 1 September 2018
Second Release 10% Bonus or USD 0.225 from 2 September 2018 to 1 October 2018
Third Release USD 0.25 from 2 October 2018 to 1 November 2018


Use of Funds

Business Goals & Timeline
We've taken our time to get crypto right. A stable infrastructure and solid financial backing. But more importantly, a marketplace of legitimate businesses who accept Ubecoin. So you can actually spend it. No longer is crypto just for speculators.
2014
Established company in 2014

2015
Business plan
Seed funding obtained
Developed wallet
Developed decentralized Crypto Currency payment platform (Ubecoin)

2016
Launched a trading platform (FTB) as Proof of Concept
100+ merchants subscribed $300 +GST in a capped trial
Buy & Sell inventory using Ubecoin
Rented offices using Ubecoin 12mths
Purchased company products using Ubecoin
Proof of concept completed successfully

2017
Seed funding obtained to further develop company asset and business model
Confirm coin build economy (size of build)
Go to market strategy planning
Engaged go to market launch partners

2018
Consolidate Ubecoin Group Pty Ltd
Launch Free Trade Barter (FTB) Platform
Launch ICO
Integrate with all JV partners, Gaming & Entertainment
Launch Free Trade Barter into international markets

2019
Launch Fintech suite of products across all platforms
Develop markets and products fit for Ubecoin expansion
Continue merchant expansion and growth




Team:-

Team is a good mix of experts from different fields.

There are experts in business administration and mechanical engineering as well as software development and finance.

All important employees can look back on a long and successful career and bring the necessary experience to the company.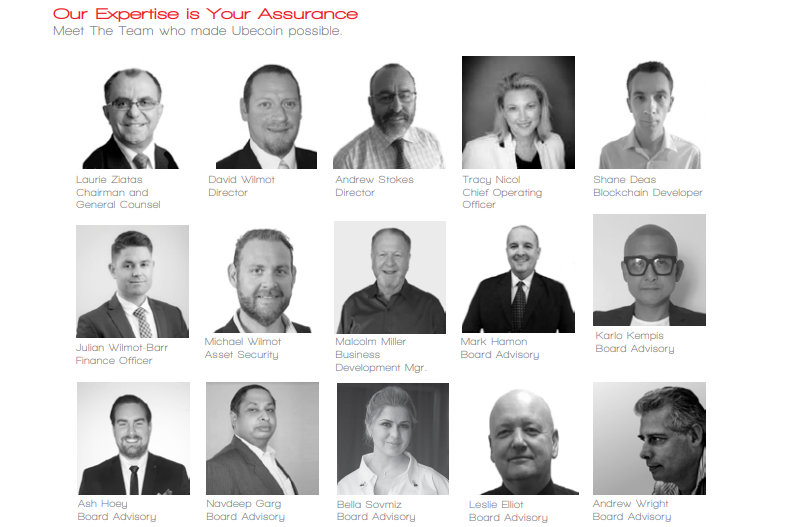 Conclusion:-
Project solves the costly and costly problem. The platform is a prime example of the meaningful use of smart contracts and is therefore absolutely groundbreaking for the future. With their experienced team and a very good vision, this is a serious project with great prospects of success.
Useful links;
Website:- https://ubecoin.com/
Telegram:-https://t.me/ubecoin
Twitter:-https://twitter.com/Ubecoin
Facebook:-https://www.facebook.com/ubecoin.official/
Bitcointalk:- https://bitcointalk.org/index.php?topic=4737261
About the author: Pradeep
Pradeep is the top author and co-founder of ATGNEWS.COM His background counts over 4+ years of experience in the blockchain industry. Pradeep has passion for cryptocurrencies, ICOs, tech revolution, and is standing for honesty across media.
Bitcointalk username: p_managave
Pls. fallow me on
Reddit https://www.reddit.com/user/managavep
Telegram channel :.HTTPS://t.me/airdropalerts2
Medium :-.https://medium.com/@p.managave
Twitter. https://twitter.com/p_managave
https://bitcointalk.org/index.php?action=profile;u=1852779
Https://www.steemit.com/managavep
Visit us on https://www.atgnews.com for latest cryptocurrency news, airdrop, bounty program
My ether wallet address
0x9Fc911D0378fEd94F4b8389174e1BBb674e61ef1
Disclaimer: All information on this post is made to educate our readers. Don't invest in any ICO unless you're confident about its capabilities and do so at your own risk